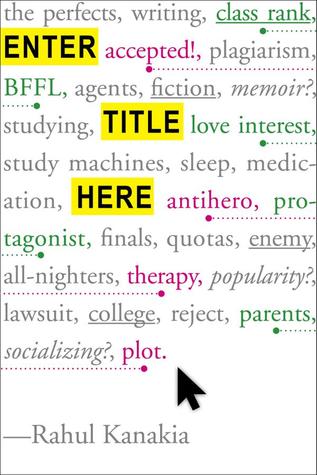 Publication August 2nd 2016 by Disney-Hyperion
How I Got It: Ebook (approximately 352 pages) from NetGalley
Enter Title Here is a novel within a novel. The novel is being written by a high school senior, Reshma, who is contacted by a literary agent after writing a column for a local publication. Reshma decides that writing a novel and having an agent will help her get into Stanford. Reshma is a selfish cutthroat character that will do anything (something she says often) to get what she wants. When she cannot earn her grades, she results to finding loopholes and suing the school so that she can get the valedictorian spot and in turn attend Stanford.
The meta element of this novel will draw readers in, but putting up with the main character's annoying personality may take some work. There are some supporting characters that make following through worth it though. Reshma's friendships and her familial relationships are mentioned, but in going along with Reshma's point of view as the author and narrator, her selfishness does not allow the reader time to truly enjoy those other characters. Ultimately, readers looking for a diary format YA novel might be better off with the darker subject matter of Anonymous Go Ask Alice or the humorous angst that

Louise Rennison

presents with Angus, Thongs, and Full-Frontal Snogging.
*Thank you to NetGalley for providing me with an advanced electronic copy in exchange for an honest review.