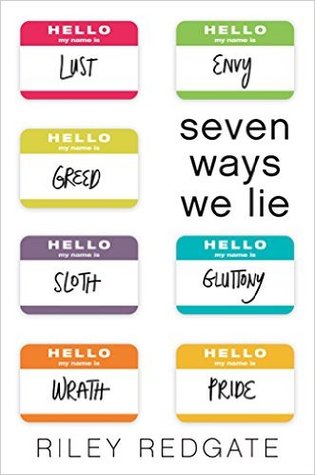 Expected publication: March 8th 2016 by Amulet Books
Read: February 2016
How I Got It: Ebook
(approximately
352 pages)
from NetGalley
Seven Ways We Lie is a high school story that, apart from a scandalous teacher-student relationship, deals with real high school issues. Told from multiple perspectives, the characters deal with drugs, parties, sexuality, and even some school projects. Even the dialogue is believable, and it's presented as clipped sentences with sometimes awkward undertones. There are a lot of "um, so yeah" conversations, but then the author goes into beautiful prose for the remaining storytelling. The pacing of the story was timed well also; in fact, all the different perspectives allowed the reader to see more of the story than would have been presented with only one main character.
Likening every point of view to one of the seven deadly sins was an intriguing device for the story. Two of the characters even do a project on Dante's Inferno which further delves into the "high school is hell" metaphor. Ultimately, Seven Ways We Lie was a well-paced story with enough mystery (who is the student involved with a teacher?) to keep the reader hooked from the first chapter, and Riley Redgate makes each character so relatable that the constant change in perspective is not only welcomed but anticipated.
*Thank you to NetGalley for providing me with an advanced electronic copy in exchange for an honest review.